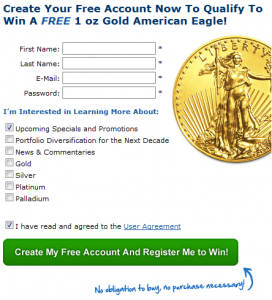 The American Precious Metals Exchange is the only online precious metals dealer I trust and buy from. They are running a monthly giveaway for ANYONE to win a 1oz. Gold coin worth over $1400 today and on the rise. All you have to do is follow the link and register to win. You can even re-enter each month, just by logging in – even if you are already an Apmex customer!
So what are you waiting for? Register today! The process takes just a few seconds and you'll be entered to win. Good luck!
Use the buttons below to share this with your friends and family on Facebook and Twitter.